The Day That A Ran Away
BCR Fegan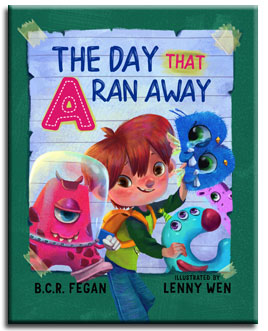 "A gorgeously illustrated book with a clever concept." – Kirkus Reviews
"Cute, funny, and educational to boot, The Day That A Ran Away is a colorful picture book that delights." – Foreword Clarion Reviews
Description
Master Jet has forgotten to complete his homework… or has he? Jet's teacher is surprised to find that instead of the alphabet, his page is completely blank. Jet tries to explain that it really isn't his fault. After all, how can he help it, if none of his letters want to stay on the page!
Details
Publisher – TaleBlade Press
Publication Date – September 1, 2018
Format – Hardback | Paperback | Kindle | ePub
Dimensions – 8 x 10 in (254 x 203 mm)
ISBN – HB 978-1-925810-00-4 | PB 978-1-925810-01-1 | Kindle 978-1-925810-02-8 | ePub 978-1-925810-03-5
Pages – 32 pages | 32 color illustrations
Language – English
Age Range – 3 to 6
"Cute, funny, and educational to boot, The Day That A Ran Away is a colorful picture book that delights." – Foreword Clarion Reviews
"A gorgeously illustrated book with a clever concept." – Kirkus Reviews
"Together B.C.R. Fegan and Lenny Wen have created a catchy, appealing story for little kids and their parents." – Literary Titan
"Children will love this story. The eeriness, suspense, and mystery will leave them feeling excited and they will enjoy discovering what is behind the door, along with the two guests." – Readers' Favorite
"Young children are bound to enjoy this entertaining and amusing picture book." – BlueInk Reviews
Did you know… each letter has its own

secrets

?
Arrogant A is an astronaut
Defensive D is a dinosaur
Harsh H is a hippopotamus
Optomistic O is an octopus
Quaint Q likes to question
Rigid R wears ribbon and roses
Villainous V is a volcano
Did you know… each page has

hidden

items to find?
Including an item in Bahasa Indonesia
A – Acorn, Ant, Apple Tree, Axe, Angsa (Goose)
B – Broom, Bird, Barn, Bag, Bunga (Flower)
C – Cat, Cherry, Cubby House, Caterpillar Capung (Dragonfly)
D – Daisy, Daffodil, Dalmatian, Daun (Leaf)
E – Elk, Eye Eceng Gondok (Water Hyacinth)
F – Fox, Frog, Flower, Fern
G – Gate, Grasshopper, Gagak (Crow)
H – Hen, Hay, Hilir (Downstream)
I – Insect, Ivy, Ikan (Fish)
J – Juniper Berries, Jetty, Jangkrik (Cricket)
K – Kite, Kitten, Kastil (Castle)
L – Lady Bug, Lizard, Lampu Jalan (Street Light)
M – Mouse, Mushroom, Mountains, Mawar (Rose)
N – Nachos, Newspaper, Napkin, Nanas (Pineapple)
O – Owl, Onion, Obat (Medicine)
P – Pie, Pumpkin, Plant, Panci (Pan)
Q – Quail, Quill
R – Rabbit, Rake, Rantai (Chain)
S – Spider, Scarf, Sandwich, Shoes, Semangka (Watermelon)
T – Tree, Train, Tulip, Tennis Racket, Tawon (Bee)
U – Ukulele, Umbrella, Ulat (Worm)
V – Vase, Vest, Violin, Voli (Vollyball)
W – Watch, Wallet, Water Bottle, Window, Wortel (Carrots)
X – Xylophone, Xenops
Y – Yoyo, Yardstick, Yarn, Yute (Jute)
Z – Zebra Crossing
'Oh no!' said the teacher. 'Master Jet,
You haven't written the alphabet.'
'I did, Mrs May,' said Jet in dismay, 'but…
Today was the day that A ran away.'
B was so sad that she didn't stay.
C left as well; he wanted to play.
D's scared of school and went into hiding.
E followed next. I think he went riding.
Warning – Spoilers
While Mrs May is checking her students' homework, she notices that Jet hasn't managed to write down the letters of the alphabet. Instead of providing a familiar excuse, Jet offers Mrs May an elaborate story about how every letter happened to leave his page while he was walking to school that morning.
The Day That A Ran Away clearly and cleverly moves through the alphabet from A to Z. Each page has a number of items to find and the simple rhyme on each page will help readers remember the letter sequence. The story also touches gently on the concept of homework and the importance of making an effort.